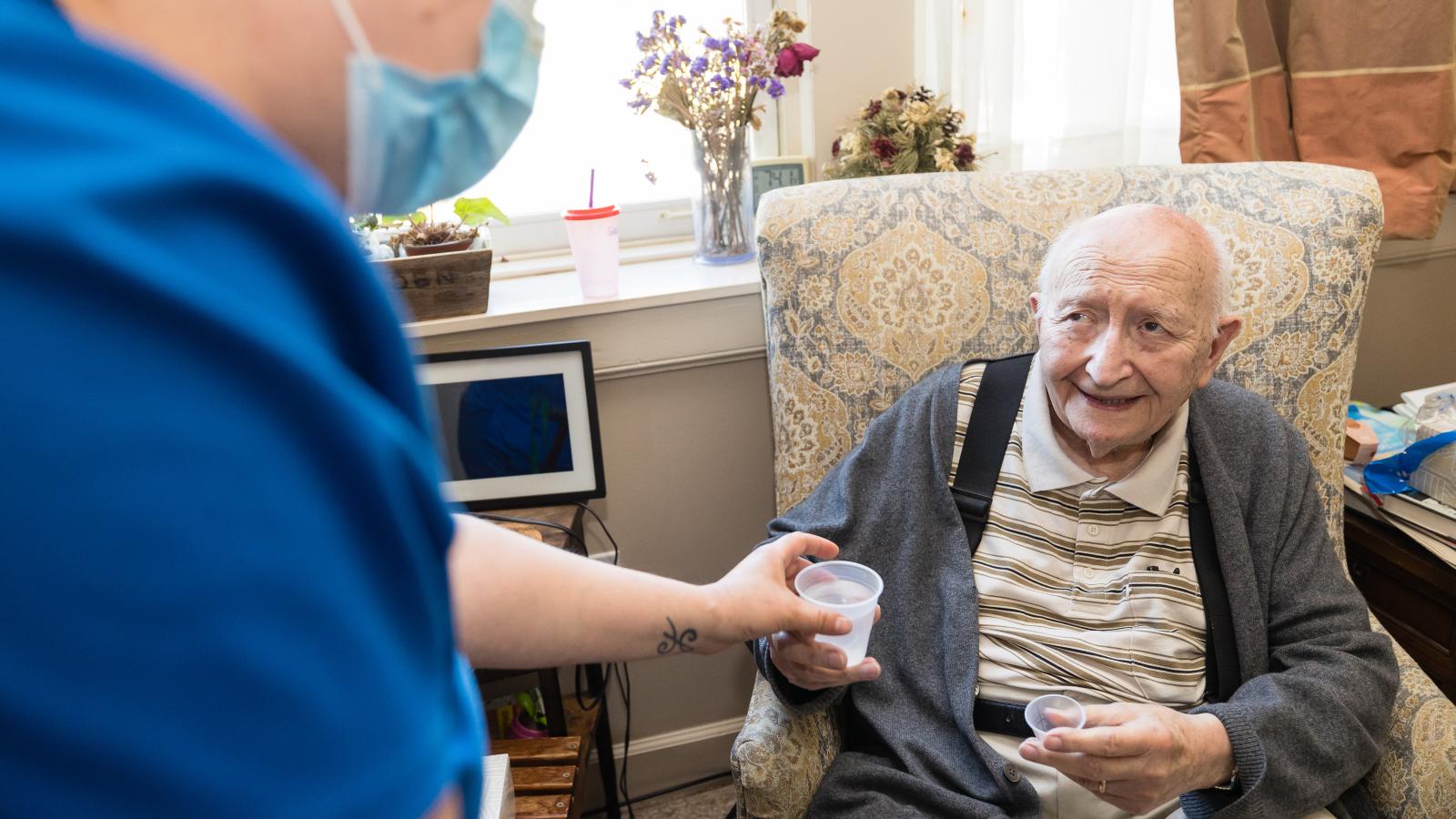 Memory Care
At Champlain Valley Senior Community, we offer a secure memory care wing devoted to residents with Alzheimer's, dementia and other cognitive impairments that is staffed with highly trained memory care providers.
Breadcrumb
About Memory Care at Champlain Valley

We have created an environment that is both secure and stimulating. Our dementia care suites offer all of the accommodations of our assisted living suites as well as increased security with delayed egress doors and a beautifully landscaped, fenced outdoor area. The secure memory care area features separate living rooms, a dining room, and features a circular design that allows residents to walk around a continuous loop.
 
Highly Trained Staff

The memory care wing boasts a high staff-to-resident ratio, all of whom are skilled and qualified to provide around-the-clock care to our residents. Our staff maintains steady communication with family members to ensure quality care and encourage family involvement. Our nurses provide medication management, ensuring that the prescribed doses are taken at the proper times and thoroughly document the administering of all medicine and changes in behavior.
Our memory care community provides:
24/7 Supervision

Full Personal Care Assistance

Emergency Call Bells

Navigational Cues

Daily prompting and cues

Medication Administration 


 
Tailored Activities and Personalized Services

Additionally, residents with dementia and Alzheimer's will benefit from our specially designed activities program, created to engage and stimulate each individual based on his or her interests and past experiences. We encourage residents to participate in the daily games, puzzles, gardening, and social outings to stimulate cognitive function. Such activity can improve communication and overall quality of life. If your loved one has exhibited early or progressing dementia stages, we would love to speak with you about how we can best meet his or her needs.
Here is a sampling of current activity offerings: 
Religious Services

Musical Performances

Games Such as Bingo and Balloon Toss

Outdoor Walks and Gardening

Spa Activities 

Arts and Crafts such as Painting
We encourage family members to bring photos and familiar decor for the resident's room that will feel familiar. We also encourage families to visit regularly and join us often for activities!
 
When Is It Time for Secure Memory Care

Knowing when it is time to place your loved one in a secure memory care facility can be a moving target and no two situations are exactly alike. A good rule of thumb as to when secure memory care is needed rather than assisted living is when the individual is:  
No longer easily redirected

No longer able to care for themselves independently 

No longer able to rely solely on prompting and cues

Prone to some behavioral outbursts
For more family resources related to memory care needs or to schedule a tour, please call us today!