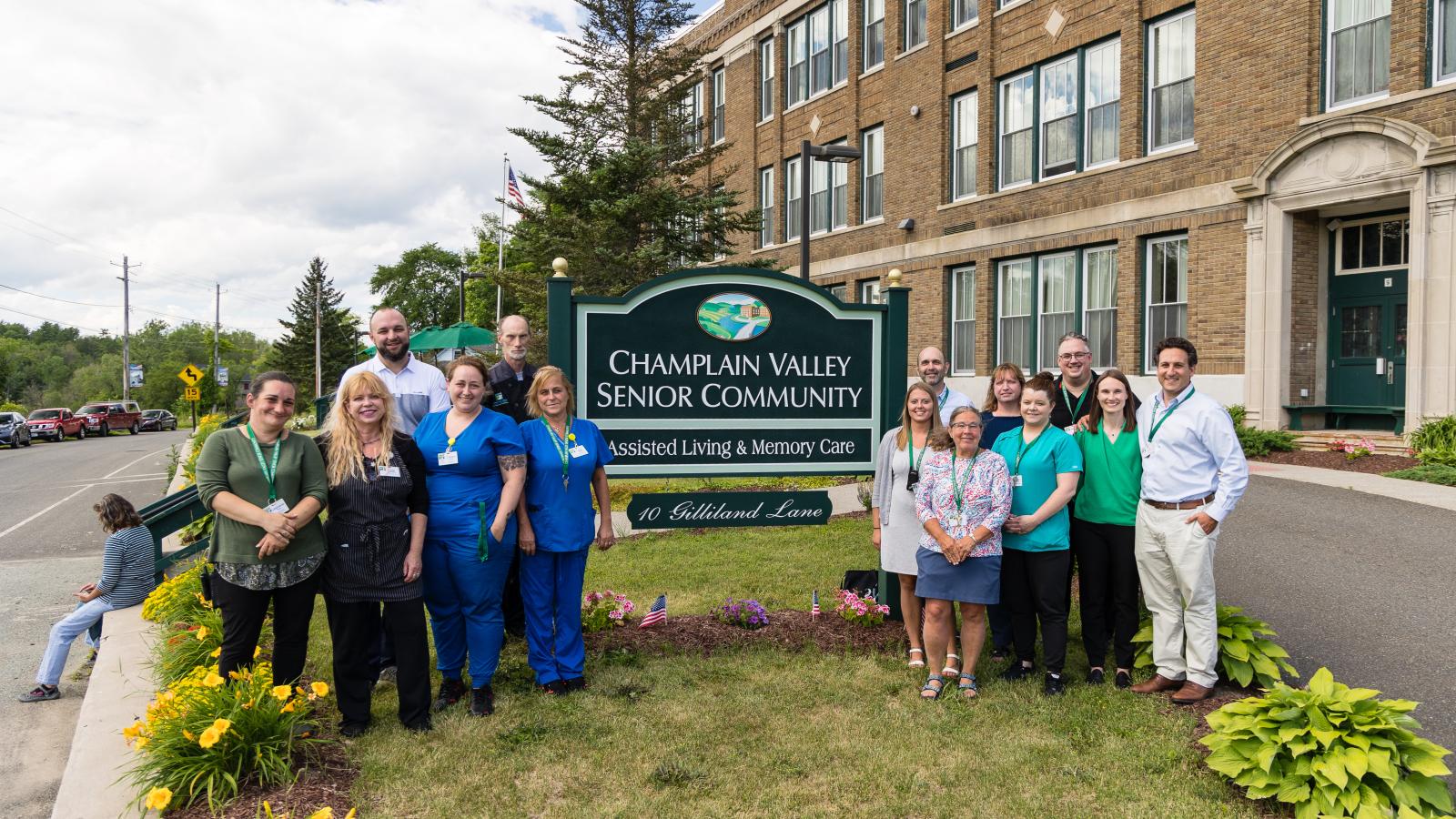 Accommodations
Experience what sets us apart.
Breadcrumb
Walk In and Feel Right at Home
Here at the Champlain Valley Senior Community, we offer the benefits of a home-like setting to our residents without the burden of cleaning or maintenance. Our delightfully designed enhanced assisted living and memory care community is complete with warm and welcoming décor that allows our residents to enjoy the people and activities they love in a place that they can call home.
Breathtaking Outdoors    
Nestled in the arms of the Adirondacks, the Champlain Valley Senior Community overlooks the beautiful Boquet River and is located just minutes from Willsboro's historic waterfall. Residents can enjoy the stunning view from the comforts of their home or take a stroll on the nearby walking trail. The riverside gazebo is perfect for those who relish the restful benefits of being outside, providing a serene space for gatherings with friends or family. Scattered around the grounds residents can find private seating and picnic areas as well as raised garden beds. CVSC is located in the heart of the village and within walking distance to several restaurants, churches, a pharmacy and the Willsboro golf course.
Historic Building
Prepare to be welcomed by the charm of Willsboro's original grade school! The character of this historic building has been maintained through the original oak arch entryway and the eight-foot-tall windows providing plenty of natural sunlight. Salvaged items such as repurposed gym bleachers and authentic school room doors have preserved the integrity of the building as well as created elegant and unique décor. For those looking to spend time outside of their personal suites, cozy living room areas filled with cheerful throw pillows and blankets are located throughout the building. The building also includes a hair salon, fully stocked ice-cream parlor, chapel, and multiple small library nooks. Spacious hallways feature original schoolhouse art work creating a delightful homelike feel. Many of our residents recall the old gymnasium, which has been remodeled into a breathtaking dining room featuring restaurant-style dining. Overlooking the dining area is a large wraparound balcony with two sitting areas, puzzle table and two library sections. The stage is the center of all activities, where live music and happy hour take place twice a week.
Private Studios
Our community offers studios as well as one and two bedroom suites featuring high ceilings, 8-foot windows and scenic views of the Boquet River. Residents have the option of fully or partially furnished rooms with private bathrooms. Each room has an individual thermostat for control of both heat and air conditioning. Water, electricity, heat, mini-fridges, high-speed wireless internet, telephone, and cable are all included. Every suite is equipped with an emergency call response system and grab bars are provided throughout the facility. Residents may also have pets in their room on a case-by-case basis.